You can source material, boost productivity, and minimize distractions all from the convenience of your internet browser with Google Chrome extensions. The fact that you have several choices is the finest part. With just one click, the Google Chrome online shop provides a choice of tools that make you safer, smarter, and more productive. Here, we've selected the greatest ones. We can't promise that using these extensions would make YouTube videos of puppies less alluring to watch, but we do suggest them for busy marketers who want to get more done online.
For all of the greatness that the internet affords — cute animal videos, GIFs, and interesting blogs — one of its biggest downsides is how distracting it can be. How many times have you sat down to work and been pulled into a pit of procrastination? Perhaps you get absorbed in updates on social media, or maybe you click through Wikipedia trying to determine what exactly Gina Rodriguez's first TV role was (it was on Law & Order). No matter where you click online, it's easy to be pulled into a black hole of distraction and low productivity.
What is a Google Chrome extension?
A Google Chrome extension is a small software program that adds new features or modifies existing ones in the web browser. Users may install these extensions to enhance their browsing experience and customize Chrome's functionality. They are created by developers using web technologies and can perform various tasks like blocking ads, managing passwords, or integrating with other services.
Types of Chrome Extensions:
Ad Blockers: These extensions help users block or filter unwanted advertisements on websites, providing a cleaner and less cluttered browsing experience.
Productivity Tools: These extensions aim to boost productivity by offering features such as to-do lists, note-taking, task management, and calendar integration.
Password Managers: Password manager extensions securely store and manage passwords, allowing users to easily log in to websites without the need to remember multiple credentials.
Privacy and Security: These extensions focus on enhancing online privacy and security. They can block tracking cookies, encrypt connections, warn against malicious websites, and provide other security-related features.
Social Media Tools: Extensions in this category provide additional functionality for social media platforms, such as scheduling posts, analyzing engagement, or integrating social media feeds into the browser.
Language Translators: Language translator extensions can translate web pages or selected text into different languages, making it easier to read and understand content in foreign languages.
Shopping and Price Comparison: These extensions help users find the best deals while shopping online by providing price comparisons, coupons, and alerts for discounts.
Developer Tools: Developer-oriented extensions assist in web development tasks by offering features like code inspection, debugging tools, and performance analysis.
News and RSS Readers: These extensions aggregate and display news articles or updates from various sources, allowing users to stay informed without visiting multiple websites.
Customization and Themes: Extensions in this category enable users to personalize the appearance of their browser by offering different themes, wallpapers, or customization options.
Top Google Chrome Extensions to Boost Productivity:
Users: 800K+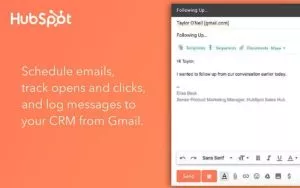 Your email inbox and your CRM are linked by HubSpot's sales tool chrome extension. This enables you to import contact information from your email into your CRM without having to switch back and forth between the two applications. This reduces the amount of time employees spend on routine tasks while maintaining crucial consumer data.
Email logging and tracking is another interesting function offered by HubSpot Sales. Users who send emails can get notifications when those emails are delivered, opened, and clicked. The email thread can then be constantly recorded in the CRM during the exchange.
Pros:
Seamless integration with Gmail and Outlook
Provides comprehensive insights into lead engagement
Enables personalized communication with templates and sequences
Offers real-time notifications for email opens, clicks, and responses
Cons:
Limited functionality for free version
May slow down email system
Can be overwhelming for new users
Privacy concerns with email tracking
Users: 700K+

You can make extremely well-organized and aesthetically pleasing to-do lists using Todoist, a project management tool, on all of your devices. The chrome extension is useful because it allows you to see your to-do list or the shared lists of your team without having to open a different tab, app, or device.
Pros:
Easy access to task list
Quick task creation
Keyboard shortcuts
Desktop notifications
Cons:
Limited functionality compared to app/website
Only works on Chrome browser
Limited customization options
Requires internet connection
Users: 10K+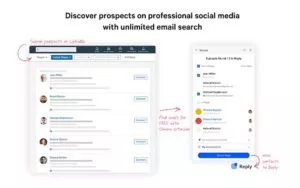 Reply's Chrome extension helps you research and engage with your potential prospects on LinkedIn. This is a fast and easy way to find and verify anyone's email address — both one by one or in bulk using LinkedIn Sales Navigator. Once you get the contacts, you can sync them to your CRM — including HubSpot — or connect with the prospects right away.
Pros:
Convenient access within the chrome browser
Can provide additional functionality or features to the browser
Often free or low-cost
Can improve productivity and workflow
Cons:
Some extensions may slow down browser performance
Can potentially compromise privacy and security
May not work across different browsers
Limited functionality compared to dedicated apps or software
Users: 600K+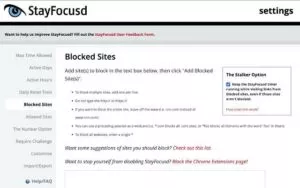 You can limit the amount of time you spend on particular websites with StayFocusd chrome extension, which helps you focus when you need to focus. It is very programmable; for instance, you may set your time limit to 20 minutes on Twitter and only 5 minutes on Facebook. It also includes cool features like the Require Challenge, which requires you to complete a challenge (such as retyping a passage of text error-free or responding to questions) in order to modify your settings once you've placed time limitations on websites.
Pros:
Increases productivity
Customizable settings
User-friendly interface
Encourages focus
Cons:
Can be bypassed
May lead to procrastination
Limitations on customization
Dependency on the internet
Users: 100K+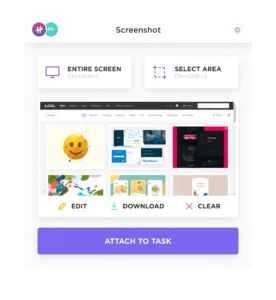 The all-in-one productivity platform ClickUp is made to manage everything from simple projects to daily to-do lists and organize all of your work into one single hub. Because of its extensive collection of customisable capabilities to streamline your operations, organize projects, and collaborate with others from anywhere, this chrome extension is trusted by teams of all sizes, including enterprise organizations, agencies, and schools. It automatically changes your ClickUp Workspace in real time without requiring you to open, close, or refresh any tabs. With this Chrome extension, you can quickly create new tasks, bookmark websites, log time, take screenshots, open Notepad, and more.
Pros:
Comprehensive features
User-friendly interface
Customizable
Mobile app
Cons:
Steep learning curve
Limited customer support
Expensive
Privacy concerns
Users: 10M+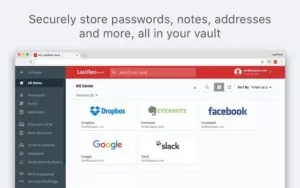 For all of the accounts you save with this extension, LastPass, a password manager, will automatically fill in the passwords for you. Your LastPass password is the only one you need to remember. Your time and hassles are reduced, and the security of your personal information is improved.
Pros:
Secure
Convenient
Multi-device support
User-friendly interface
Cons:
Subscription required for some features
Dependency on the internet
Vulnerable to phishing attacks
Privacy concerns
Users: 10K+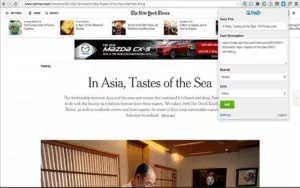 Trello is a well-liked chrome extension for team collaboration and project management that can also be used as a personal to-do list or content calendar. Users of the Trello addon can quickly add URLs as cards to their Trello boards. Users who want to keep track of pertinent websites, articles, or other online resources related to their tasks or projects will find this useful. Users can rapidly create cards with links to these resources by using the Trello extension without having to switch between their browser and Trello.
For users who rely on Trello for planning and task management, this can assist streamline the process and boost productivity. For anyone who incorporates Trello into their daily workflow, the plugin is a helpful tool.
Pros:
Easy integration with Trello
Time-saving
Improved organization
Customization
Cons:
Limited functionality compared to the Trello app
Only works on Chrome browser
Dependency on the internet
Potential security concerns
Users: 300K+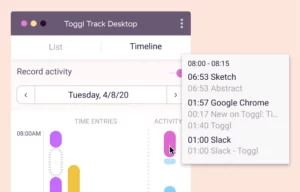 You might gain from using the Toggl Track Chrome extension if you have trouble managing your time and frequently find yourself devoting too much time to one work at the expense of another. This extension makes it possible for you to start a timer directly from within your browser, doing away with the need to manually start a timer on another device. You can start keeping track of the time you spend on a task with a few clicks, and you can quickly switch to another work if you need to.
For those who work on several projects or jobs during the day, the Toggl Track Chrome addon can be very helpful. You may manage your workload more skillfully and make sure that your time is being used efficiently by keeping track of how much time you spend on each assignment. The addon also offers insightful information about your work practices and time management, enabling you to pinpoint areas where you might need to increase your productivity or concentration.
Pros:
Time tracking
Improved time management
User-friendly interface
Integration
Cons:
Limited functionality in free version
Dependency on the internet
Privacy concerns
Steep learning curve
Users: 700K+

The Print Friendly & PDF Chrome extension is a useful tool for anyone who needs to save web pages in a print-friendly format or as a PDF. With just a few clicks, the extension removes ads, sidebars, and other cluttering elements from the page to provide a clean and easy-to-read format. Additionally, users can further customize the page by deleting images and adjusting the text size to suit their preferences.
Pros:
Print-friendly format
Customization options
Easy to use
Improved user experience
Cons:
May not work with all websites
Loss of original design elements
Dependency on the internet
Limited functionality
Users: 200K+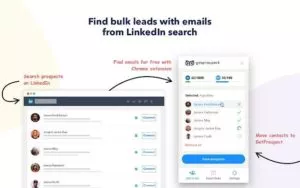 Whether you're looking for the owner of a tiny website, conducting sales outreach, or looking for guest blogging possibilities, Email Finder as a chrome extension can instantly provide you with a list of confirmed emails connected to that domain. For sales representatives and marketers who want to save time when looking for possible contacts at a company, it is an absolutely fantastic tool.
When looking for potential contacts at a company, it is a useful tool for sales representatives and marketers who want to save time and increase their effectiveness. The tool can aid in streamlining the sales and marketing process and enhancing communication with potential clients thanks to its accuracy, efficiency, and simplicity of use.
Pros:
Time-saving
Accuracy
Easy to use
Improved communication
Cons:
May not work with all domains
Privacy and security concerns
Limited functionality
Dependency on the internet
Many Purposes Served by Google Chrome Extensions:
Enhanced Functionality: Chrome extensions add new features and functionality to the Chrome browser, allowing users to customize their browsing experience. They can extend the browser's capabilities, such as blocking ads, managing downloads, translating web pages, capturing screenshots, or integrating with other applications.
Productivity Boost: Many Chrome extensions are designed to improve productivity by streamlining tasks and automating repetitive actions. They can help you manage your time better, organize your work, and access information more efficiently. Examples include to-do list managers, note-taking tools, email trackers, and project management extensions.
Customization and Personalization: Chrome extensions offer a high level of customization, enabling users to personalize their browsing environment. You can modify the appearance of websites, change themes, apply custom styles, or rearrange elements on webpages according to your preferences. Extensions also allow you to personalize browser settings and shortcuts.
Improved Security and Privacy: Chrome extensions can enhance your online security and privacy. They can block malicious websites, detect phishing attempts, and warn you about potential threats. Some extensions provide secure browsing by encrypting your connections or blocking tracking cookies. Additionally, password managers and VPN extensions can further safeguard your sensitive information.
Content Filtering and Blocking: Chrome extensions can help filter and block unwanted or distracting content. Ad blockers, for example, remove annoying advertisements, pop-ups, and banners, resulting in a cleaner and more focused browsing experience. You can also find extensions that filter explicit or inappropriate content, block certain websites, or limit access to specific categories.
Social Media and Communication Tools: There are numerous Chrome extensions available that enhance social media platforms and communication channels. They can integrate with social networks, allowing you to schedule posts, analyze engagement, or share content easily. Chat and messaging extensions provide quick access to communication apps, enabling you to stay connected and respond promptly.
Learning and Research Assistance: Chrome extensions can be valuable tools for learning and research. They can provide instant dictionary definitions, language translation, or grammar correction. Research-focused extensions offer citation generators, note-taking features, and research organization tools. Some extensions even provide access to academic databases or scientific literature.
Entertainment and Leisure: Chrome extensions offer various options for entertainment and leisure activities. You can find extensions for playing games, watching videos, listening to music, or discovering new content. They can also provide quick access to news feeds, weather updates, or sports scores, keeping you entertained and informed within your browser.
Community and Collaboration: Some extensions promote community engagement and collaboration. They enable users to share content, collaborate on documents, or annotate web pages together. These extensions are particularly useful for teamwork, online learning, or when working on shared projects.
Steps to Install a Chrome Extension:
Open the Google Chrome web browser on your computer.
Go to the Chrome Web Store by typing  in the address bar or by searching for "Chrome Web Store" in a search engine and clicking on the official link.
Once you are on the Chrome Web Store, you can browse through various extensions or use the search bar to find a specific extension.
Click on the extension you want to install to open its details page. Here, you can read more about the extension, check user reviews, and see screenshots.
On the extension's details page, click on the "Add to Chrome" button located on the top right corner of the page.
A confirmation dialog box will appear, displaying the permissions required by the extension. Read the permissions carefully to understand what the extension can access on your browser.
If you are comfortable with the permissions, click on the "Add extension" button.
Google Chrome will then download and install the extension. You will see a notification confirming the installation, and the extension's icon may appear in the browser's toolbar or menu.
The extension is now installed and ready to use. You may need to adjust its settings or provide any necessary configuration to make full use of its features.
Conclusion:
With the right extensions, users can tailor Chrome to their specific needs and make their browsing experience more efficient and enjoyable. However, it's essential to exercise caution when installing extensions and ensure they come from reputable sources to mitigate potential security or privacy risks.
Learn about Google Adsense here.
FAQs on Google Chrome Browser Extensions:
How can I install a Google Chrome extension?
To install a Chrome extension, visit the Chrome Web Store and search for the extension you want. Once you find it, click the "Add to Chrome" button and follow the prompts to finish the installation.
Are Chrome extensions safe to use?
While most Chrome extensions are safe to use, there are some that may be malicious or pose security risks. It's essential to research and verify the reputation of an extension before installing it, and to keep the browser and extensions up-to-date to reducing the risk of security vulnerabilities.
Can Google Chrome extensions slow down the browser?
Yes, some Chrome extensions may slow down your browser by consuming additional resources or causing conflicts with other extensions or browser features. It's important to limit the number of extensions you use and to regularly review and disable any that are no longer necessary.