Office tools and spreadsheets are insufficient for running an enterprise efficiently. Manual methods are still prevalent in 50% of manufacturing, software, and service industries, leading to ineffective collaboration, task drops, and limited project visibility.
To effectively manage multiple departments, agencies, and employees spread worldwide, a comprehensive tool is necessary. Enterprise project management tools offer features such as project planning, tracking, and scheduling, facilitating collaboration across departments, aligning resources with objectives, providing a comprehensive view of progress, automating tasks, and executing projects seamlessly.
Types of Enterprise Project Management:
Customer relationship management (CRM)
CRM software revolutionizes how businesses nurture and understand their customer relationships across various touchpoints, including social media, email, and in-person interactions. By tracking and analyzing customer interactions from lead acquisition to loyalty, businesses can deliver the personalized support expected by modern consumers.
In the era of customization, enterprises need to humanize their brands while managing complex marketing campaigns. Marketing automation software empowers leaders to streamline schedules, track campaign performance, and uncover insights into the most effective strategies.
Harnessing the power of emails is essential for engaging with customers. However, manually managing mass email campaigns is impractical for enterprises. Email marketing automation software simplifies the process by enabling perfectly timed and customized emails that resonate with recipients.
Social media marketing software
Social media is a vital channel for expanding businesses. Automation software allows enterprises to efficiently track social media feeds, engage with followers, and reduce response times. This frees up time to create captivating social content.
Project management software
With dispersed teams in the era of remote work, project management software is essential for enterprises to streamline workflows, foster collaboration, and reduce reliance on face-to-face meetings. It eliminates silos and enhances efficiency.
Enterprise resource planning (ERP)
ERP software integrates and digitizes daily operational processes, including procurement, accounting, supply chain management, risk management, HR, and compliance. By consolidating separate software systems, enterprises gain valuable insights and cost savings through improved compatibility.
Content management systems (CMS)
A CMS empowers enterprises to manage website content from a centralized hub, facilitating collaborative efforts without requiring technical expertise. It enables scheduling marketing functions, designing customer journeys, and leveraging data-driven insights for effective future campaigns. When selecting software solutions, enterprises should prioritize flexibility, return on investment, and cost savings to maximize their resources.
Top Enterprise Project Management Softwares: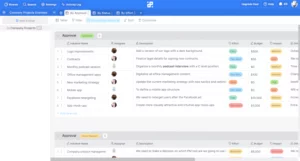 Infinity is an enterprise project management software designed to streamline project planning, resource management, team collaboration, and budget tracking for organizations of any size, from 10 to 100+ employees.  As a comprehensive solution, Infinity allows you to organize your entire company, initiate and plan projects, store critical data, manage tasks and teams, and more. It consolidates all important information in one centralized location, enabling you to break down projects into manageable tasks, categorize them by departments, assign tasks with due dates, and easily monitor progress.
With the abundance of work, it's common to overlook priorities and deadlines. However, Infinity offers effective tools to prevent that. Choose from 6 views to stay informed of deadlines and track progress, utilize Gantt charts for enhanced deadline management, prioritize and categorize tasks based on urgency and status, ensuring nothing falls through the cracks.
Pricing: Infinity offers both basic and pro plans. Basic plans start from $3.75 per user per month, and pro plans start from $6 per user per month.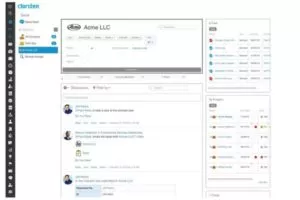 Clarizen stands out as a leading project management software, offering portfolio management features and a wide range of built-in functionalities that support enterprise success amidst constant change. Despite its powerful enterprise project management capabilities, Clarizen maintains a user-friendly interface with customizable user dashboards.
Enterprises rely on Clarizen to develop project strategies and execute plans that align with their entire work cycle. The software's configurable workflows seamlessly integrate into existing business processes, driving focus and increasing efficiency throughout the enterprise.
With in-context collaboration features, Clarizen fosters communication alignment and enhances workforce engagement, accelerating performance across the organization. Configurable workflow automation ensures maximum project outcomes and eliminates duplicated efforts. It also facilitates external communication, enabling stakeholders to share emails, discussions, files, and links, fostering alignment and collaboration. The software empowers enterprises to make data-driven financial decisions, generate automated status reports, manage time and expenses, and improve project health. Integration with other enterprise-grade software, such as Slack and Zapier, expands Clarizen's capabilities to their fullest extent.
Pricing: Clarizen offers two paid editions—enterprise and unlimited. Contact them via email for more pricing info.

Monday.com is an all-in-one enterprise project management tool that simplifies portfolio management, from planning to data insights, ensuring clear execution of projects. Its collaboration and reporting features enhance productivity by eliminating the need to switch between tabs. With numerous automations, Monday.com empowers users to streamline workflows by converting them into templates and sharing them organization-wide with a single click. The platform is highly customizable, allowing users to adapt it to their work methodology and view project data in various formats, providing both an overview and detailed insights into each project in the portfolio.
Promoting a smooth workflow and collaboration, Monday.com facilitates tracking of project statuses, deadlines, and resolution of roadblocks. Real-time notifications keep users informed of recent changes, enabling control over team activities and stakeholder involvement. Security is a top priority, as Monday.com adheres to stringent measures, allowing users to set user permissions and control access, ensuring the safety of sensitive data.
Pricing: Monday.com keeps their enterprise plan pricing private. Contact them via email for more info.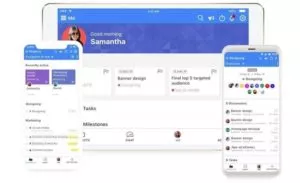 ProofHub is an enterprise project management tool designed to assist global teams in planning, visualizing, and organizing projects while promoting seamless collaboration and timely execution. It offers comprehensive control over project portfolios, team activities, analytics, and more.
With ProofHub, you can centralize all discussions and conversations, assign tasks, distribute responsibilities, set task priorities, track task progress, and monitor time spent on each task. It keeps you updated on recent project changes and enables smart resource allocation.
Beyond these core features, ProofHub provides additional functionalities to streamline processes and enhance efficiency within large organizations. Its Kanban boards and Gantt charts allow task division by stages, task dependencies, visual project overviews, improved workflow understanding, and team self-management to stay on schedule.
It consolidates all documents and files, making them easily searchable using relevant keywords. It stores previous file versions, facilitates file sharing within and outside the enterprise, and supports multiple languages (English, German, French, Spanish, Portuguese, and Polish), catering to worldwide teams. These features contribute to its reputation as one of the best enterprise project management systems available.
Pricing: ProofHub is currently running a limited time-deal for remote teams and clients priced at $89/month when billed annually.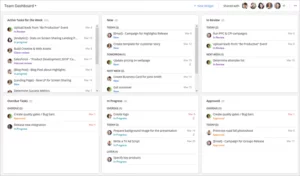 Wrike, now part of Citrix, is a powerhouse enterprise work management software that unlocks the full potential of remote and cross-functional teams, driving accelerated growth. You gain a comprehensive 360-degree view of projects and departments, empowering you to stay informed on progress, prioritize effectively, access critical information swiftly, and make intelligent decisions.
Enjoy the flexibility of a customizable interface, personalized dashboards, tailored workflows, purpose-built templates, interactive Gantt charts, and collaborative Kanban boards that can be fine-tuned to perfectly fit your team's unique requirements. Harness the power of this tool's Work Intelligence and automation features to proactively predict risks, save valuable time, and expedite results throughout your organization. Leverage custom request forms, create rules, and witness the magic as tasks are automatically generated and assigned to your team, enabling timely and budget-conscious delivery.
Fostering collaboration, Wrike facilitates seamless communication across teams with intuitive replies and voice commands, ensuring efficient interactions with key stakeholders. The platform shortens the feedback loop, empowering you to review, edit, and approve files and tasks seamlessly. Gain valuable insights into your team's performance and drive even better results.
Pricing: Contact Wrike to find out more about their enterprise plan's price.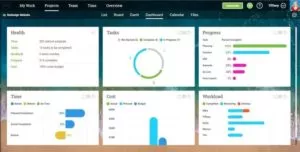 ProjectManager.com stands tall as a leading enterprise project management system, offering unparalleled scalability and adaptability to suit any organization. Specifically designed for large teams and complex projects, it boasts a comprehensive suite of planning, scheduling, collaboration, and resource management features, eliminating the need for additional scattered apps and programs.
With ProjectManager.com, project planning and scheduling become a visual delight with beautifully designed Gantt charts. Real-time dashboards provide project managers and team members with clear and easily understandable data through informative charts, allowing seamless tracking of projects, tasks, budgets, and team progress. The tool also ensures balanced workload and resource management, promoting high productivity while preventing work overload.
Equipped with built-in project portfolio management capabilities, it empowers enterprises to handle multiple projects simultaneously. Efficiently organize programs and portfolios, establish project interdependencies, and collaborate seamlessly at the task level. As one of the top enterprise management tools, this tool effortlessly generates customizable reports on project and task statuses, resource availability, and time management with just a click. These reports provide valuable insights essential for achieving your business goals, empowering informed decision-making.
Pricing: ProjectManager.com has a purpose-built enterprise plan and offers a free demo while pricing depends on the size of your organization, number of employees, etc.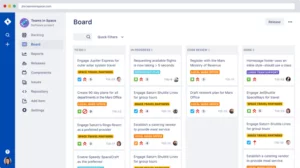 Jira, the ultimate enterprise work management software tailored for development teams, revolutionizes issue and project tracking. It equips you with the tools to meticulously plan projects, efficiently distribute tasks across your organization, gain unparalleled visibility into progress, foster meaningful discussions around your teams' work, and deliver exceptional software ahead of schedule.
What sets Jira apart is its ingenious out-of-the-box workflow. Choose from a variety of pre-designed workflows or craft your own, perfectly aligned with your teams' unique processes and methodologies. Fuelled by powerful automations, Jira eliminates the need to start from scratch. Leverage its extensive collection of rule templates and seamlessly kickstart your projects, effortlessly auto-assign issues, and automate software releases to supercharge productivity.
Harnessing the power of visual data, Jira empowers you to monitor real-time team performance and generate insightful reports. With the Enterprise plan, Jira includes Atlassian Access, safeguarding your projects with data backups, robust disaster recovery, and comprehensive security measures, ensuring the utmost privacy and protection. In a world driven by innovation, Jira stands as the catalyst for unparalleled efficiency, collaboration, and security in enterprise project management, unlocking the true potential of development teams.
Pricing: Jira has several annual plans for enterprises of various sizes, starting from $122,250.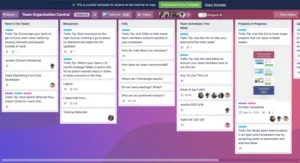 Trello stands tall among enterprise project management tools, earning the trust of large teams worldwide. Tailored for organizations with 100+ users, this software seamlessly connects work across departments, boosting productivity while ensuring unwavering control, security, and support. Empowered by a remarkable array of features, it allows you to tailor workflows to perfection and effortlessly track projects according to your unique approach. Native Dashboard and Table views provide a comprehensive bird's-eye view, enabling you to uncover connections, identify overlaps, and optimize workstreams for enhanced efficiency.
With Trello's built-in membership and organization controls, managing access to projects, tasks, and boards becomes a breeze. Track progress, monitor activity across multiple boards simultaneously, and foster smooth collaboration, all while maintaining the privacy of sensitive work—an admin's dream come true.
Meet Butler, Trello's automation bot, the guardian of productivity. By automating manual tasks, Butler liberates teams to achieve more with fewer clicks. Cards are automatically updated, members are assigned, and timely reminders ensure due dates are never missed. Meanwhile, Trello's unmatched power-ups and integrations open doors to a world of possibilities, seamlessly integrating with hundreds of apps like Evernote, Github, Jira, and Google Drive—no need to leave the platform. Trello truly simplifies enterprise project management, offering a comprehensive toolkit that caters to the diverse needs of global teams and administrators alike, empowering flawless project execution.
Pricing: Trello's average price per user is $210 for their enterprise plan. If you have any questions, contact their sales team.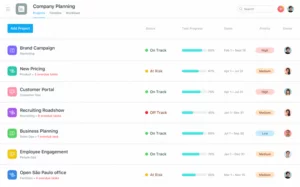 Asana, the influential enterprise project management tool, equips you with a comprehensive suite of features to drive your success. Say goodbye to app hopping and email chaos, as Asana's tailored Enterprise plan empowers you to plan, organize, manage, and execute projects seamlessly. You gain unparalleled visibility into team activities, tracking task completion and real-time status updates. Stay on top of multiple projects with ease, ensuring timely progress and keeping all moving pieces in focus.
Communication is streamlined, ensuring alignment among teammates, clients, and vendors. Effortlessly locate and share files, feedback, project plans, and vital details both within and beyond your organization.
Managing people across your enterprise becomes effortless with Asana's advanced features. Benefit from SAML authentication, automated user provisioning, and robust admin controls, setting it apart as a standout choice on our list of enterprise management software.
Pricing: Contact Asana's Sales team to find more information about their Enterprise plan and pricing.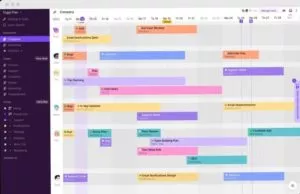 Toggl Plan is a delight for large teams managing multiple projects simultaneously. Its robust project planning and task management features ensure smooth progress from start to completion.  Setting up and using this is incredibly easy, with a clutter-free interface providing a clear overview of project statuses. Say goodbye to hours spent updating and tracking progress, as Toggl Plan keeps you informed and aware of available capacities.
In the dynamic world of enterprise, plans change rapidly. Toggl Plan effortlessly adapts to changes, allowing for seamless task management through simple drag and drop actions. Keep your teams in flow without disruptions.
As a top-notch enterprise management tool, Toggl Plan offers a timeline view to review past progress, enabling better resource and workload management. While lacking project portfolio management, reporting, and budgeting features, you can integrate it with Wrike, Planview, or LiquidPlanner to enhance its functionality.
Pricing: Toggle Plan's basic plan with standard features is priced at $8/user/month while their full-featured plan comes at $13,35/user/month (great for small and mid-sized enterprises).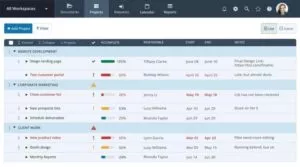 Workzone, a pioneer among enterprise management tools, has been empowering teams for 17 years. With their wealth of experience, the team behind Workzone understands the art of organization and maximizing productivity in large organizations.  It keeps you in the know, providing a clear picture of project and task statuses at all times. Its cross-board overview saves you time on processes and approvals, while its adaptable nature ensures seamless adjustments to changing project priorities and measurement of results based on new information.
When managing a team of 100+ people, Workzone becomes your sanity saver. It automatically updates project plans and tasks as team members update their to-do lists, offering a holistic view of daily work across projects.
Collaboration becomes effortless with Workzone's task splitting capabilities, facilitating smooth teamwork through file sharing, task comments, and approvals. The tool offers insights into progress across workspaces and generates insightful reports to identify obstacles and enable real-time reassessment for optimal enterprise outcomes.
Pricing: Workzone's enterprise plan is priced at $43/user/month.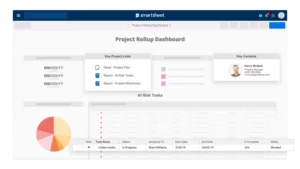 In a world of constant change and fierce competition, enterprises must shatter barriers and execute with precision to thrive. Enter Smartsheet, the innovative juggernaut among enterprise project management tools, designed to empower organizations to work dynamically and maintain their leadership.
Smartsheet is an intuitive solution that seamlessly combines collaboration, workflows, and content, revolutionizing processes and driving tangible results. It empowers you to effortlessly manage projects, portfolios, and resources across your entire enterprise, effortlessly tackling daily challenges as it adapts to the ever-evolving work landscape. With this tool, planning and scheduling projects becomes a joy, allowing you to fine-tune individual work preferences and foster a collaborative environment where every voice is heard, including stakeholders. It grants you full visibility into tasks and team priorities, generating real-time reports adorned with rich metrics that provide invaluable insights into progress.
Resource allocation and financial control are a breeze too, enabling you to effortlessly track planned and actual spending while maintaining complete clarity, security, and compliance. This user-centric enterprise management software empowers your entire workforce to deliver exceptional business outcomes, unleashing the full potential of your organization.
Pricing: Smartsheet's pricing info on their Enterprise and Premier plans is available upon request.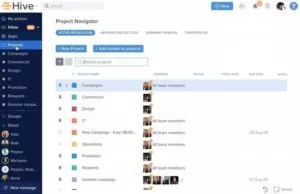 Hive, the centralized enterprise project management platform, serves as the beating heart that connects coworkers, data, tasks, and projects across the globe, enabling flawless solution delivery. Its versatile project views empower different departments to customize the interface, fostering inspiration and productivity.
Creating projects and tasks in Hive unleashes a world of efficiency. Personal dashboards present each member in your organization with a comprehensive overview of actions and tasks, ensuring nothing slips through the cracks. Say goodbye to repetitive task creation as Hive facilitates instant template duplication. Automation buttons empower you to add labels, sub-actions, change assignees, and seamlessly move cards across projects.
Designed for remote work, Hive streamlines communication through its chat functionality. Dragging and dropping tasks into the chat window assigns actions to co-workers, while the comment section facilitates discussions, issue transfers, and file attachments. Harnessing the power of Hive Analytics, admins and project managers gain valuable insights into team progress. Monitor individual performance, track completed tasks, identify productivity peaks, and stay informed about looming deadlines. This enterprise project management system offers additional add-ons such as resource management, proofing and approvals, timesheets, and robust security measures to safeguard invaluable data.
Pricing: Hive's base package is priced at $12/user/month. Their enterprise package includes all add-ons (priced $4-$6 each), although it would be best to contact them for more info.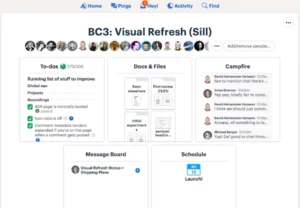 Basecamp serves as the ultimate toolbox for large teams and enterprises, providing a comprehensive suite of tools to manage multiple projects effortlessly. This enterprise project management software offers a wealth of functionalities, including to-do lists, schedules, real-time group chat, message boards, and file storage, ensuring a harmonious workflow and preventing chaos. With Basecamp, you gain a holistic view of your teams' workload and progress, both at a macro and micro level. It keeps every project participant informed and focused on key actions and deadlines.
Hull Charts enable you to structure work and track task progress over time, while the system automatically follows up on overdue tasks. Maintaining focus amidst a barrage of notifications can be challenging. Basecamp allows you to pause notifications with a single click, providing you with uninterrupted concentration. When you're ready, all notifications are conveniently displayed. Searching for specific information across numerous projects can be a daunting task. Advanced search features in this tool empower you to swiftly locate information by person, keyword, image, file, or history, ensuring efficient information retrieval.
Last but not least, Basecamp offers robust reporting capabilities, generating insightful reports on team and project performance. Gain quick insights into tasks completed, overdue, due soon, upcoming tasks, and assignments to specific individuals, facilitating effective project monitoring and management.
Pricing: Basecamp is priced at $99/month flat.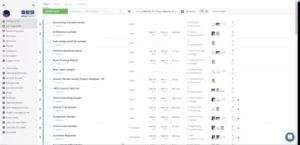 Easy Projects, a leading project and portfolio management platform, is an excellent choice for enterprise teams. Renowned as top-tier enterprise project management software, it offers comprehensive resource visibility, real-time resource planning, resource loading reports, streamlined processes, and efficient management of multiple projects, programs, and ad-hoc projects simultaneously.
Seamless collaboration is key to productivity and efficiency, and Easy Projects simplifies teamwork. It centralizes project and task information, facilitates approval requests from team members, and keeps everyone informed of recent edits through notifications. In addition to portfolio management and analysis, Easy Projects measures individual performance across departments and tracks the progress of all ongoing projects.
Project managers and executives benefit from Easy Projects' business intelligence analytics, which enable the creation of visually appealing interactive reports and analysis of large data sets via intuitive dashboards. Team members can choose their preferred time-tracking methods, while managers can utilize this data to generate comprehensive time, billing, and payroll reports, and calculate wages.
One notable feature that sets this enterprise management software apart is AI forecasting. Leveraging AI and Machine Learning, Easy Projects predicts project completion and assists in more effective planning, thereby enhancing overall enterprise efficiency.
Pricing: Contact Easy Projects for pricing info.
What to Look for in Enterprise Project Management:
Project Requirements: Assess your organization's specific project management needs. Identify the features and functionalities that are essential for your projects, such as task management, resource allocation, collaboration tools, reporting capabilities, and integrations with other systems.
Scalability: Consider the scalability of the software. Ensure that it can accommodate the size and complexity of your projects as your organization grows. The software should be able to handle a large number of users, projects, and data without compromising performance.
Ease of Use: Look for software that is intuitive and user-friendly. It should have a clean and well-organized interface, making it easy for team members to navigate and use the software effectively. Consider the learning curve and training requirements for your team.
Customization and Flexibility: Assess the level of customization and flexibility offered by the software. It should allow you to adapt and configure workflows, project templates, and processes to align with your organization's unique requirements. Customization options can help tailor the software to your specific project management approach.
Integration Capabilities: Consider the software's ability to integrate with other tools and systems that your organization relies on. Seamless integration with existing systems such as CRM, accounting, and collaboration tools can enhance efficiency and data exchange across platforms.
Security and Data Privacy: Data security is crucial for enterprise software. Evaluate the software provider's security measures, data encryption protocols, access controls, and compliance with relevant regulations like GDPR or HIPAA. Ensure that your sensitive project data will be stored and transmitted securely.
Vendor Reputation and Support: Research the reputation and track record of the software vendor. Read reviews, seek recommendations, and assess their customer support offerings. Prompt and reliable technical support can be crucial when you encounter issues or need assistance with the software.
Cost and Value: Consider the total cost of ownership, including upfront fees, subscription costs, and any additional charges for extra features or users. Evaluate the value the software provides in relation to its cost, weighing the benefits and potential return on investment.
Conclusion:
EPM typically includes a set of processes, methodologies, and tools that help organizations effectively manage and deliver projects on time, within budget, and according to the desired quality standards. It aims to provide a holistic view of projects and their interdependencies, enabling better resource allocation, risk management, and decision-making. It's worth noting that specific EPM practices and methodologies may vary between organizations based on their industry, size, and specific requirements.
Looking for ways to keep ypur customers happy? Check out customer management softwares here.
FAQs on Enterprise Project Management:
What features should I look for in enterprise project management software?
When evaluating enterprise project management software, consider features such as project planning and scheduling tools, task management and assignment capabilities, collaboration and communication features, resource management and allocation functionalities, reporting and analytics capabilities, integration options with other software systems, and customizable workflows to fit your organization's specific needs.
How does enterprise project management software support collaboration?
Enterprise project management software facilitates collaboration by providing centralized platforms for team members to communicate, share project-related information and files, assign and track tasks, and monitor progress. It often includes features like real-time messaging, document sharing, comment sections, and collaborative workspaces, enabling seamless collaboration and enhancing team productivity.
Can enterprise project management software integrate with other business systems?
Yes, many enterprise project management software solutions offer integration capabilities with other business systems such as CRM, ERP, HR, and finance software. This integration allows for seamless data sharing and synchronization, ensuring that project information is up-to-date across various systems and enabling better coordination between different departments within the organization.
Is enterprise project management software suitable for remote teams?
A: Absolutely. Enterprise project management software is well-suited for remote teams as it provides a centralized platform for collaboration, communication, and project management. Team members can access the software from anywhere, track their tasks, participate in discussions, and stay updated on project progress, regardless of their location, fostering effective remote teamwork.
Can enterprise project management software handle multiple projects simultaneously?
A: Yes, enterprise project management software is specifically designed to handle multiple projects concurrently. It provides features like project portfolio management, multi-project dashboards, and reporting capabilities that allow organizations to oversee and manage multiple projects simultaneously. This ensures better coordination, prioritization, and efficient utilization of resources across various projects.