It's a challenging task to manage a WooCommerce online business. Having a successful internet shop takes a lot of time, effort, and commitment.
Inventory management is a critical aspect of running a successful business, especially in the retail and e-commerce sectors. It involves tracking and controlling the flow of goods, ensuring optimal stock levels, and managing inventory across multiple channels. To simplify and streamline these processes, businesses often rely on inventory management plugins. These plugins are software add-ons or extensions that integrate with e-commerce platforms or other business systems to enhance inventory control and optimization.
Benefits of Using an Inventory Plugin:
Editing Inventory in Large Quantities: Updating stock products can take hours, but with a WooCommerce inventory management plugin, you can do the same in minutes. Simply clicking a button, you can instantly update thousands of products' prices, discounts, and variant prices.
Calculations in a Flash: You can save yourself the time and effort of figuring out how your product prices and stock levels will vary by using a plugin to manage your inventory. The computations are completed automatically in the background, saving you a ton of time.
Increase the Number of Available Items: You may also use the plugins to quickly add several items to your shop with a single action. This plugin will take care of everything after you upload a spreadsheet with the necessary data. There is no need to upload one product's attributes and then repeat that process for a hundred more goods.
Accurate Inventory Tracking: An inventory plugin helps you keep track of your stock levels in real time, ensuring that you always have an accurate count of your products.
Improved Order Management: A good inventory plugin allows you to manage orders more efficiently by automating tracking stock levels, updating product availability, and generating invoices.
Inventory Control: With an inventory plugin, you can set low stock alerts, reorder points, and manage your stock levels to avoid overstocking or stock shortages.
Reduced Costs: An inventory plugin can help reduce costs by avoiding stock shortages, overstocking, and product obsolescence.
Better Customer Experience: An inventory plugin can improve the customer experience by ensuring that products are always available and providing real-time stock-level updates.
Factors to Look for in an Inventory Plugin:

Compatibility: Ensure that the inventory plugin is compatible with your existing e-commerce platform or inventory management system. It should seamlessly integrate with your current setup to avoid any compatibility issues.
Features and Functionality: Evaluate the features and functionality offered by the inventory plugin. Look for essential features such as stock level tracking, barcode scanning, SKU management, batch tracking, and inventory reporting. Consider whether the plugin provides real-time inventory updates and supports multi-channel selling if needed.
Ease of Use: The inventory plugin should have a user-friendly interface and intuitive navigation. It should be easy to set up and configure without requiring extensive technical knowledge or coding skills.
Automation and Synchronization: Check if the plugin offers automation capabilities such as automated stock updates, order syncing, and automatic reordering. This helps streamline your inventory management processes and reduces manual work.
Customization: Determine if the plugin allows for customization based on your specific inventory requirements. The ability to add custom fields, set inventory alerts, and define stock thresholds can be crucial for tailoring the plugin to your business needs.
Scalability: Consider whether the inventory plugin can scale with your business as it grows. It should be able to handle a large number of products and orders without performance issues.
Integration and Third-Party Support: Verify if the inventory plugin integrates with other essential tools or services you use, such as accounting software, shipping providers, or marketplaces. Additionally, check if the plugin has a reliable support system or community for assistance and regular updates.
Pricing and Support: Evaluate the pricing structure of the inventory plugin, including any recurring fees, additional charges for advanced features, or transaction-based costs. Also, consider the level of customer support provided by the plugin's developer, including documentation, tutorials, and responsive customer service.
Top WooCommerce Plugins of 2023:
With ATUM Inventory Management for WooCommerce, store owners have a powerful tool that may help them take their company to the next level. It is free to use and provides robust functionality for managing stock levels.
Customers have access to several search and filtering options and quick edit and report generation tools. In addition, everything is handled through a user-friendly interface that streamlines processes and frees up your time to concentrate on growing your business in other ways, such as by increasing conversion rates.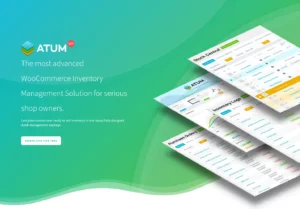 FEATURES:
Exceptional customer service
Add-ons like Purchase Orders Pro and Action Logs
WPML compatibility for enterprises with international ambitions
Bulk actions, such as deactivating products
Advanced search and filter tools, including auto-fill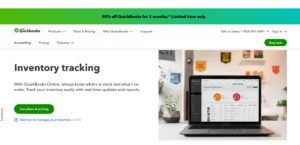 WooCommerce stores that currently utilize QuickBooks may find the TradeGecko plugin, now called QuickBooks Commerce, to be a helpful addition. It's user-friendly and centralizes control over your inventory data, including stock-keeping units and backorders.
QuickBooks Commerce doesn't have a free tier like ATUM. Consider spending anything from $15 to $200 per month, depending on the number of channels you utilize and the size of your organization. While the platform frequently has sales, the discounts might not be worthwhile.
FEATURES:
Real-time inventory management across multiple sales channels and physical locations Invoicing and shipping process automation
Fully customizable reports with actionable insights to maximize analytics
Support for both business-to-consumer and business-to-business transactions
A wide variety of platform integrations to enter new markets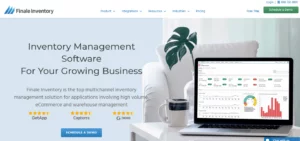 When it comes to inventory management, Finale Inventory has you covered on every front; its newest feature, an integrated eCommerce platform, is just the icing on the cake. Instead of traditional software, this platform uses a web-based approach, and making such a choice reduces the stress on your server. It's not free, but this platform is among the most polished in terms of design and ease of use and has excellent user support. The more advanced and personalized features require more time to become proficient with, but the program is straightforward.
FEATURES:
Reliable, scalable cloud-based architecture
Multiple-site synchronization
Application Programming Interface
Predictive analytics for inventory levels
Bundling and knitting capabilities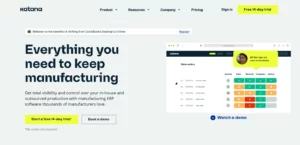 Katana's interface is one of the most user-friendly inventory management platforms. One of the more recent additions to the market, you can anticipate continued development and new offerings from this company. You may track raw materials, import orders in real-time, and plan reorder with the help of the premium platform. If your business has to keep tabs on raw materials and finished goods, Katana is a good choice.
FEATURES:
Access to Real-Time Data
Employee Task Scheduling and Assignment
Inventory Tracking from Raw Materials to Finished Goods via Barcode Scanning
The modern and versatile eSwap may be used by businesses of any size and type to manage their inventories better. Start with the free version if you're an individual or a small business, or pay to unlock premium features for your company. This web-based service has an easy-to-navigate interface and can process orders, generate bills, and conduct analytics. It also takes orders via email or phone and uses secure payment processing.
FEATURES;
Workflow automation options to streamline services
B2B wholesale option
Multiple service tiers starting with a free version
Four pricing tiers to meet varying business needs
Comprehensive analytics and reports to keeping tabs on every aspect of the business
Manage shipping, purchase orders and invoices, catalogs, and physical warehouses, all from a single dashboard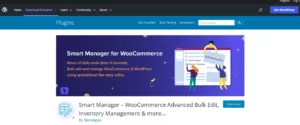 The Smart Manager for WooCommerce plugin for WordPress allows users to keep tabs on stock levels and make mass changes to product descriptions. It enables individualized product creation, bundling, and the establishment of discounts (coupons, for example).
An assortment of criteria, such as stock keeping unit, backorder status, and price, are available in a spreadsheet editor for use by shop owners. Both a Lite and a Pro version are offered to accommodate enterprises of varied sizes and needs. Free but with limited tracking and editing capabilities, the light edition is not recommended for serious use. The Pro version of the software allows for bulk edits, more product options, and membership sales.
FEATURES:
Coupons may be used in any version of the tool
Inline editing is available in both Lite and Pro
Goods can be sorted by column, and searches can be kept basic in Lite or expanded upon in Pro.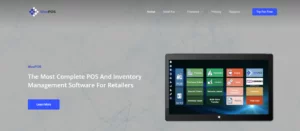 WooPOS markets itself as a unified system that streamlines operations for chains with many locations. In addition to stock levels, it allows you to track consumer behavior and keep tabs on the POS system.
In addition, WooPOS can manage huge datasets with various search and filtering capabilities. WooPOS is more expensive than the other solutions above, but it has additional features, including monitoring sales and staff productivity. You also save money by not having to purchase a separate WooCommerce POS plugin when using this solution.
FEATURES:
Options for Making Safe Payments
Multiple Payment Options
There are more than 500 reports available, and a built-in customer relationship management system allows users to keep tabs on client habits and emerging patterns.
Consistent availability with offsite backups
Quick replies from helpful representatives

To keep accurate stock levels at both locations, you may use the WordPress plugin Stock Synchronization for WooCommerce. Users who manage more than one store will appreciate how this plugin streamlines what may be a tedious and error-prone manual operation. To avoid overselling, the stock levels at both locations are updated in real-time in response to purchases made at either location.
FEATURES:
Quickly integrating with WooCommerce and Shopify
Define the terms under which each item will be sold
Group items and label them with pertinent metadata
Scheduled restocking of goods is only one of the many tasks that may be automated
Support for several file types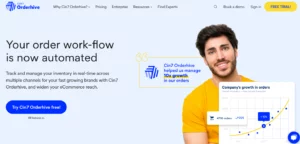 Orderhive Inventory Management is an option for growing businesses due to its scalability. Despite its ability to handle large enterprises, the platform is designed with startups and rapid expansion in mind.
Manufacturing, ordering, shipping, and even monitoring purchases are all taken care of by Orderhive Inventory Management. You'll also have access to other forms of automation helpful in running an online store, such as the ability to make barcodes. Making your employees more productive by assigning them daily assignments is simple.
FEATURES
Supports a wide range of currencies
Allows for real-time monitoring of shipping conditions, from cheapest rates to quickest delivery
Tools for expedited and streamlined return processing
Data analytics and reporting in real-time to aid in decision making
Conclusion:
An inventory management system allows you to manage your WooCommerce store's inventory effectively and get an idea of the value and the specific number of items you have in stock. Managing your inventory is helpful for different reasons, such as tax purposes, accounting, and gaining specific business insights.
Learn about WooCommerce product fliters here.
FAQs on WooCommerce Inventory Plugin:
How do I install a WooCommerce inventory plugin?
To install a WooCommerce inventory plugin, you typically need to log into your WordPress dashboard, navigate to the plugin section, and install the plugin using the "Add New" button. Some plugins may require manual installation by uploading the plugin files to your server.
How to make inventory sold out on WooCommerce?
Go to WooCommerce → Settings → Products→ Inventory. Tick' Enable Stock Management and disable the low and out-of-stock notification emails. Do NOT enable the 'Hide out of stock items from the catalog' option.
Can WooCommerce handle 5000 products?
Yes. WooCommerce is a scalable platform and can easily accommodate 5000 (and more) products. The only challenge is that the website performance may need to improve because of the number of products. It would help to ensure that the page load speed, database query execution, and server performance are maximum.
How do I organize my products in WooCommerce?
Products on WooCommerce stores can be organized into product pages and category pages. You can also sort product listings in the search results through several filters. Any feature-rich WooCommerce inventory management plugin can help you organize products differently.